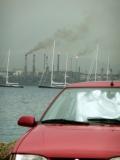 ESG ON CEPSA INVESTING IN ENVIRONMENTAL SAFETY
The ESG has learnt through the Gibraltar Chronicle that CEPSA, San Roque, is once again advertising the fact that it is investing heavily in environmental protection measures to actively reduce the volume of pollution produced by the plant.
The group considers the news as a "reverse admission" of heavy pollution inflicted upon communities and the environment over a lengthy period, which is never admitted to, at any one time. Instead we hear of pollution levels being reduced – SUBSTANTIALLY – thereby admitting levels were high to begin with.
For the ESG, campaigning on pollution issues for the past ten years, any measures to improve this deplorable situation is of course welcomed. The fact that the Refinery admits fugitive fumes and leaks for example is a victory for our Bay Bucket Brigade Campaign which fought hard to inform communities about this serious problem. Urgent attention to this very real threat to health is necessary.
One wonders, however, if CEPSA, under its new owners, will permit the ESG and our Bay Bucket Brigade colleagues to take air samples inside and outside the plant to establish beyond doubt that the pollution present NOW is not poisoning people and the environment – this impact has been ongoing for years affecting people's health and contributing towards disease and mortality levels as well as degrading the Bay's ecosystem much of which will never recover.
Only when independent verification carried out by affected community members such as the Bucket Brigade is allowed, can we begin to accept that environmental safety is a priority for the huge Corporate Industry that CEPSA represents.