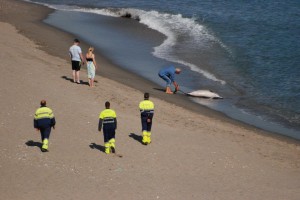 The ESG was notified of the sighting of a dead dolphin washing up ashore at Eastern Beach yesterday. This is a tragic occurence which happens rarely, but neverttheless begs many questions as to the cause of death.
We have started carrying out coastal "checks" around Gibraltar's shoreline as part of a survey to establish what gets washed up – primarily as a fact finding exercise but ultimately to work towards wider efforts to clean up our oceans. Comprehensive data will be collected during the winter and will be offered to Mediterranean and Global studies involved in assessing the health of the seas.
It is striking that on the first day of our coastal watch a dead dolphin arrives on our shores. Lets hope this is the only one we shall see during the winter months.
We invite you to please send in photos and or information on anything unusual you find on our shores, and especially excessive debris after heavy rains. Thank you.
Contact esg@gibtelecom.net Call: 200-48996