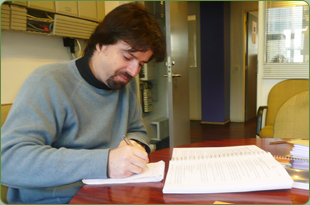 Moses Benrimoj BSc. (Hons)
Born 23/12/67
"From a very young age I have been interested in the Environment and therefore studied the sciences for my A levels at Bayside school in Gibraltar. In 1988 I travelled to the UK to further my studies and obtained a Bachelor of Science Honours degree in Chemistry with Environmental Science from the University of Kent at Canterbury three years later, therefore combining my two passions of science and the environment. This was a brand new course in the UK at the time.
On my return I took up employment at the new incinerator, which had just been built. I took part in the commissioning and subsequent running of the new plant where incineration, water and electricity production were combined. I was responsible for the control of all emissions and their compliance to EU standards and for the maintenance and calibration of the measuring equipment. I also tested and dosed the water produced, which comprised two-thirds of Gibraltar's water consumption.
I later moved to another line of work but I have continued my involvement with science and the environment by joining the ESG. "
ESG Comment: Moses's background, both at University and his working career, has provided the ESG with a clear mandate for the application of best practice and enforcement of environmental laws in our campaigns. As key scientific adviser to the group the ESG relies on Moses to ensure our work is always accurate and of the highest technical standard.