As we enter the month of August preparations get underway for this year's Clean up the World weekend, this being Gibraltar's fourth participation.
The Envoronmental Safety Group (ESG) would like to inform those interested of some important dates coming up soon: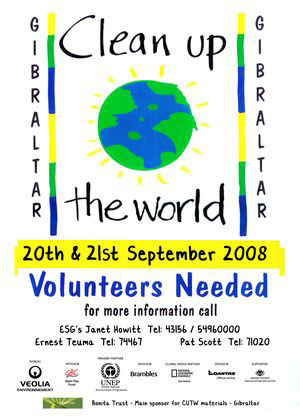 Planning Sessions : 22nd August and then on the 5th and 19th September
Where?: ESG Premises, Plater Youth Club, top floor
Time?:8.00pm Call 43156 for further details
CUTW Weekend itself: 20th and 21st September This year's theme is "Start Today, Save Tomorrow –Clean up our climate".
Colourful posters will soon be on our streets and public places ( see attached) advising the community of the event and calling for volunteers.
We hope to see fresh changes arise from this year's campaign in the form of litter wardens, more bins and signage, and an increase in recycling facilities. The new recycling bins this year are a bonus for a weekend that will not only see collection of rubbish, but also an effort to separate where practical any glass, cans or paper/cardboard collected.
The ESG thanks the Gibraltar community for the outstanding support it has shown in previous years which has seen a truly "community wide effort" at cleaning up Gibraltar's green and coastal areas. . Sadly, many of the same sites continue to be treated as rubbish dumps by a considerable minority highlighting a chronic problem which is far from resolved. The Clean Up is another opportunity to place the spotlight over one weekend, on what is a round the year problem, which needs addressing for all our sakes as well as for the environment.
Please call 43156, 71020 or 74467 for further information and to register