CAMMELL LAIRD AND MOUNTAIN OF GRIT
In October 2003 we met with the Environmental Agency and conveyed to them the public concern over a large amount of grit, (some 5,000 tons),which, according to those living in the vicinity of Cammell Laird had remained within the yard for over two years.
The Agency confirmed that they had been in contact with the company urging them to dispose of this material, but that because of certain constraints and difficulties, the removal had not gone ahead.
Since our first letter to Cammell Laird on 5th December 2003, we have kept in contact with them and have urged the company to dispose of what we consider to be a large quantity of hazardous material, which has been, and continues to be exposed to the elements, and which can be dispersed into the air, and the sea.
During the past eight months we have been assured by Cammell Laird that they are in contact with Government to arrange the removal of the grit, whilst we have continued to express our disquiet and concern at the time being taken to remove it.
Regrettably to date, and after our last meeting with the company on 7th July wherein we were told that they were doing all they could to remove the grit, this hazardous material remains in the yard.
Given that we have been in contact with Cammell Laird for the past eight months, and that as yet this material has not been removed, we have decided to go public, and ask that Cammell Laird, or whoever is responsible for this delay, to explain publicly why the grit has not yet been removed, and when this will happen. We feel this is a matter of public importance which warrants a public explanation.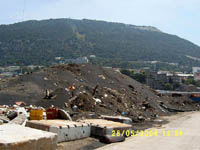 Please click on an image to enlarge the view
---