"The ESG would like to draw attention to the highly alarming flaring activity at the CEPSA Oil Refinery on Friday 30th March 2007, at its worst between 6.50pm and 7.30pm. The group received numerous calls from members and non-members alike reporting the incident and asking for advice – it is clear that these incidences provoke great unease and even fear in some cases.
The ESG spoke to its colleagues in Spain who were themselves trying to obtain information from emergency number 112, but, as usual, were not able to get any help or advice.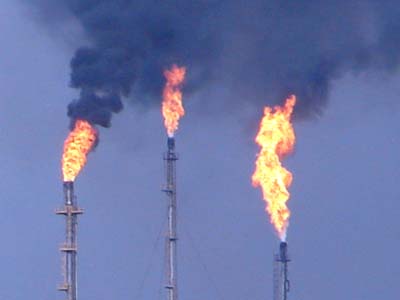 close-up photo courtesy Verdemar from May 2006 flaring incident
Flaring is used to burn off accumulated gases that build-up in the system (usually due to a power failure). However, excessive flaring, such as in this case, also means that large quantities of toxic gases are being released into the atmosphere over a short space of time. This disperses offsite and is entirely wind driven affecting surrounding communities and environment for the duration of the flaring period.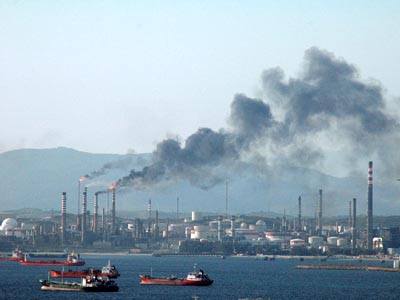 Photo of March 2007 incident supplied by gibnews.net
Denny Larson – Global Community Monitor Director and expert advisor to the ESG and Bay Bucket Brigade, has advised that a well run oil refinery should have on-site back-up power supply that will kick-in immediately after a power failure limiting the duration of such heavily polluting practices.
Although it is some time since the last episode of heavy flaring from the Refinery ( May/June 2006), this does not lessen the concern and alarm raised by such activity when it happens.
The ESG urges La Comision Mixta to focus on this matter when assessing cross border environmental issues to improve information support to communities during such incidences and also to address the clear lack of best practice by the CEPSA Oil Refinery"