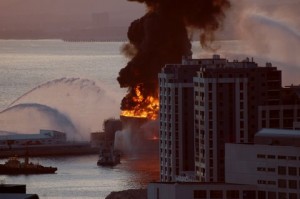 Photo courtesy T Finlayson
In what has shocked the Gibraltar community a tank at the Waste Oil processing plant based at the Western Arm yesterday exploded when apparently being worked on by a contractor.
The immediate impacts from the explosion were felt mainly by those closest to the plant, ie the workmen and businesses located nearby, but also a cruise liner was berthed alongside and felt the force of the explosion.
Since then, (since  3.30pm on the 31st may), fires have raged at the plant with a second tank igniting and the ever present threat of this continuing to spread. Nevertheless there is a form of containment which should prevent the worst of this raging fire from spreading beyond the fenceline.
Of course, at present, local residents and even some in nearby Spain, are beginning to complain about the toxic smoke reaching their homes and finding it difficult to breathe easily. The advice from the authorities is to stay put, shut your doors and windows but this will not eliminate discomfort which many will experience in breathing in this air.
Please read ESG Press Release Wednesday afternoon with a full statement on this issue.