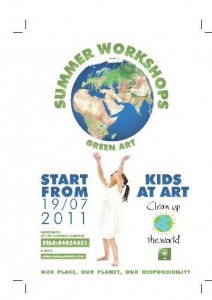 We would like to promote a brand new summer art workshop being held at the Sports Centre which is being held on Tuesdays and Thursdays during the Summer Sports Programme. This workshop is entirely focused on environmental themes and as such has the total support of the ESG under the CUTW Banner. Children of all ages are being invited to contact a young lady called Anna Maza on : 54024321 and email to register at: ania.maza@gmail.com .
The art produced at the workshop can help spread important messages about our environment and our responsiblity for looking after our planet. With the CUTW Parade and Exhibition taking place on September 17th in Main Street and at the John Mackintosh Square, it will provide another opportunity for the artwork produced by the youngsters at the summer workshop to be displayed and help raise awareness.
So, why not sign up your child to have a fun filled summer by joining Anna at her Kids at Art workshop making Green Art on Tuesdays and Thursdays for the next month or so.