ESG Radio Newsletter 19.09.19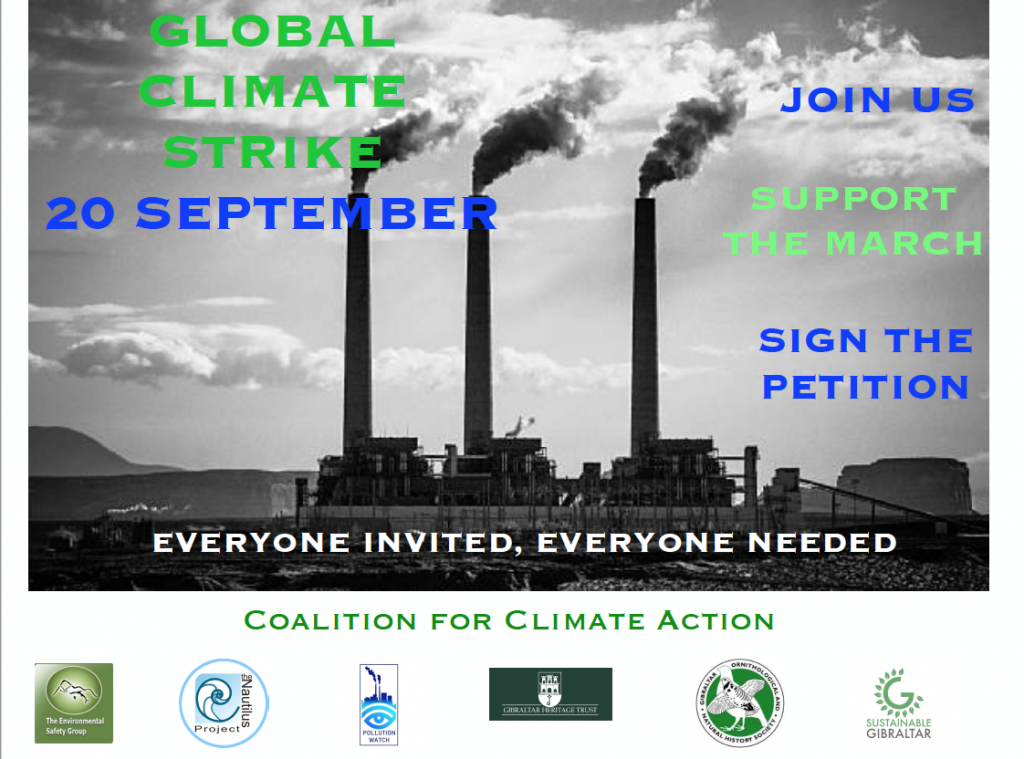 We have reached that all- important date in your diary.. the 20th September- a day of action throughout the world where communities everywhere are standing up for the environment and climate change. Marches are taking place globally supporting a movement called Parents for Future – Climate Change Strike.
We call upon the Gibraltar community to march with us up main Street where on arrival at No.6, a petition will be submitted to Government calling for action on climate, in response to Government's own declared and cross party supported, Climate Emergency Pledge. Be there for yourselves and for your families – we meet from 5pm to depart from Casemates at 5.30pm…
The March reflects the coming together of various NGOs now called the Coalition for Climate Action who care passionately about our future, our natural world and about the urgent need for the right actions to be taken locally. This Coalition will continue to lobby together beyond tomorrow's march.
So see you tomorrow at 5pm in Casemates and thanks to all those who signed our several thousand strong petition.
Before I go I would like to read an extract from a publication I read recently that applies to Gibraltar as much as it does the rest of the world…
"Strike because the people who did the least to cause this crisis suffer first and worst – the people losing their farms to desert and watching their islands sink beneath the waves aren't the ones who burned the coal and gas and oil. Strike because coral reefs are so gloriously beautiful and complex – and so vulnerable.
Strike because sun and wind are now the cheapest way to generate power around the world – if we could match the political power of the fossil fuel industry we could make fast progress."
Thank you