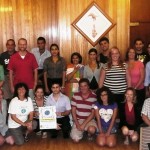 click on image for full picture
CUTW 2011 Second and Final Planning Session
This week saw the final planning session take place for this year's Clean Up the World Event on Saturday 17th September, 2011. This promises to be a truly dynamic event with well over 500 volunteers tackling various areas around Gibraltar in an effort to clear away dumped rubbish from green, coastal and underwater areas.
The day will start with an energetic and colourful parade supported by local schools and members of the community which will finish up at John Mackintosh Square where activities, information displays and other attractions will feature, all with an environmental theme. Parade will depart from Casemates at 11.00am and will make its way to the "Piazza" where activities will continue until at least 12.30pm. The ESG hopes the community will support this important event. "Waste Art" workshops have been held during the summer and will continue until the weekend ensuring various exciting and thought provoking displays and activities on recycling and waste issues will greet the schools at the Square on the day. Meanwhile some of the teams will already be working hard at relieving our natural environment from litter and dumped waste.
On both of our planning sessions the ESG has delivered a presentation outlining the aims of the campaign and the progress attained over the years. In subsequent discussions it's clear that all volunteers agree that until we see a litter fining and enforcement scheme in place our home town will continue to see litterers and irresponsible contractors dumping waste where they shouldn't. Campaigners hope that this scheme will be implemented with no further delay. They also welcome the fact that in this, our seventh year, the Govt response to our collective efforts means that everyone senses progress and the chance of achieving further positive change.
Team leaders are reminded to please collect equipment and information sheets on the 16th September from ESG Premises above Plater Youth Club – (details sent direct via email) – call 54960000 if any problems.
Teams confirmed for action: ESG, GONHS, RGP Diving Team, Gib Sub Aqua Club, Simply Diving, Mixed Team, Tom's Team, Peachies, Scouts, Heritage Trust, Guides, Recycle.gi, Interbuild, 101 Ltd, MoD, St. Mary's School, Bayside School, Westside School, St.Christopher's School, St. Anne's School, St. John's Cadets, Thinking Aloud, Deloitte, Round Table, Rotary, Convent, Community Services, Wildlife Park, and Alameda Botanical Gardens (a few others remain unconfirmed).
Additional Support from: Barbary Rock Adventures, Navy, Tarik Shipping, GibDock, Master Services, Toyota, 101 Ltd, Interbuild and many others. Thanks in advance to everyone for their enthusiasm and commitment to this community wide campaign.
(Picture attached of 2nd Planning Session with ESG and various Team leaders)