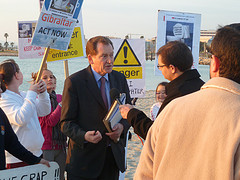 ESG Congratulates Sir Graham Watson
"The ESG would like to acknowledge and congratulate Sir Graham Watson for his recent Knighthood which, in the groups view, is entirely deserved.
While having earned this award via his efforts in European law unrelated to the environment, our own experience of Sir Graham is that he is very dedicated to his constituents as well as deeply involved in environmental issues in general. His hard working approach and recently awarded accolade reminds us that Gibraltar is very lucky to have him fighting our corner in Brussels.
We wish Sir Graham well in this recognition by the Queen."