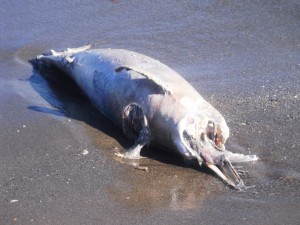 Under our new Coastal Survey programme, our monitor yesterday spotted another dead dolphin at Eastern Beach. This is the second such sighting since our survey began two months ago! The tragic sight raises alarm bells for the safety for marine life in our waters.
Following on from regular surveys of Gibraltars "key flotsam collection points" which we are doing as part of a new exercise under the CUTW umbrella, the ESG was most concerned to find another dead dolphin washed ashore at Eastern Beach. This is the second dead dolphin found in as many months and raises serious concerns about the safety at sea for our marine life.
We are hoping to collect useful information over a period of time to help create a picture of what waste material is affecting the marine environment :
either because of litter travelling out from our streets through storm drains, or brought to shore via storms at sea.
The survey also concluded that the calmer weather is resulting in much cleaner beaches on the whole which was positive.