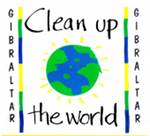 The ESG is very pleased to announce that this year's plans for Clean up the World 2013 are now underway. In what is the 9th year of Gibraltar's participation, we can confirm the widespread interest and support for this community campaign is as strong as ever. Over twenty team leaders attended a major planning meeting this week. A report was delivered by ESG's Janet Howitt on last year's Clean Up recognising the great voluntary effort and the many gains achieved in the past year.
Among these are:
• Improved recycling streams and facilities
• Schools and Government departments leading the way by recycling as policy
• Year round efforts at tackling litter and waste issues are being heard and acted upon by the Litter Committee
• Efforts underway via Litter Committee to encourage businesses and clubs to increase recycling
• Cleaning of CUTW hotspots and other areas are now carried out more frequently
• Initiative to deliver information on litter and waste to every single household and business in Gibraltar was achieved via a Litter Leaflet – this was a collaboration between ESG/Litter Committee/AquaGib and the Ministry for the Environment
There are a number of issues still pending that the Clean Up, as a Campaign, will set out to highlight and promote this year. Among these is the need for fines and enforcement and dedicated Litter Wardens. Facilities must be improved and an Eco Park set up without delay. Tobacco smuggling related rubbish is a growing problem that needs to be tackled.
In spite of year on year clean ups, wanton littering is still seen in many of our natural environments, and this presents a threat to all life forms as well as being an eyesore. In spite of increased, sustained action by various agencies, and while improvements have been noted, it's clear we still have a problem.
Volunteers will be tackling several green areas, coastal sites and underwater clean ups. Organisers believe it is vital to continue to promote the need for civic pride and responsibility.
If you would like to take part please contact 54960000 or leave a message at 200-48996, or email esg@gibtelecom.net to register for the Clean up, as an individual or a team. We are currently assigning teams to sites so this is a good time to get in touch.
The Clean up Date is the 21st September and we expect the day to kick off with a lively parade in the heart of town as from 10.30am- Casemates. More details will be published soon.