MEP smells, tastes and feels the pollution in el Campo area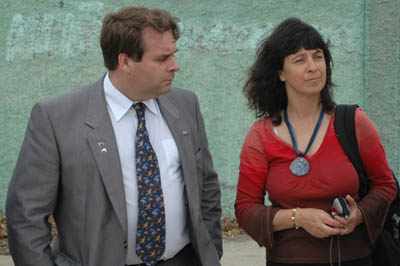 Neil Parish and Janet Howitt sampling the air outside the refinery.

On Thursday 13th April, representatives from the Bay Bucket Brigade took the Member of the European Parliament, Neil Parish, on a toxic tour of the Oil Refinery, Power plants and other petrochemical works in the Campo de Gibraltar area. The BBB turned out in full strength and had a full accompaniment of its Spanish colleagues

The MEP was shown examples of zero maintenance on pipes and infrastructure as well as broken down health and safety equipment in place to protect workers on site. The MEP was also shocked and dismayed to see the proximity of these large, aging industrial plants to residential areas, nurseries, schools and recreational areas. He witnessed the nearby cars, patios and playgrounds covered in chemical droplets which had eaten away at the paint and top surface. In his own words Mr Parish said he had previously been made aware of the disgraceful condition of these plants and their devastating effect on the surrounding environment but that today he had: "felt, tasted and seen the pollution with his own eyes".

Mr Parish's view on the apparent lack of local Spanish political support for the residents next to the plants was that this too was outrageous; he was however, hopeful that MEP David Hammerstein, unable to come on this trip at the last minute, would take up this issue as a Spanish MEP and together continue to lobby at European Parliament level for action to be taken.

Mr Parish reiterated his intention to invite the European Environment Commissioner or an official representative to come down and experience a similar close up tour of the Oil Refinery, Power Stations and petrochemical plants.

Bay Bucket Brigade members:-

ESG, GONHS and GWA (GIBRALTAR)
PRODENI, CORTEFUEGOS and VERDEMAR (SPAIN)