The ESG would like to announce a summer campaign called "Use the Bins"!! The group has decided to initiate an awareness drive in the run-up to Clean up the World 08 to encourage greater attention to the issue of litter. This is focused at a time when many of us are outdoors, either with sports, or at the beach. Children, especially, will spend extended periods at the Sports and Leisure Centre during the summer programme.
It is with this in mind that a co-ordinated effort between the Dept of Education, the ESG, and the Sports and Leisure Authority, with generous backing from the Bonita Trust, is launching a campaign inviting children from primary and middle schools to participate in a poster competition on litter and recycling issues.

To kick this off, the ESG has also been able to obtain the help of the very creative local artist, Michele Stagnetto, who has produced an arresting and dynamic design for the campaign. This poster has been distributed throughout our schools and will also be posted around our sporting facilities too. Participants can choose to work on their projects during the summer as the deadline for submissions is not until the 12th September. Entries must be taken before this date to the Arts and Crafts Gallery, in Casemates.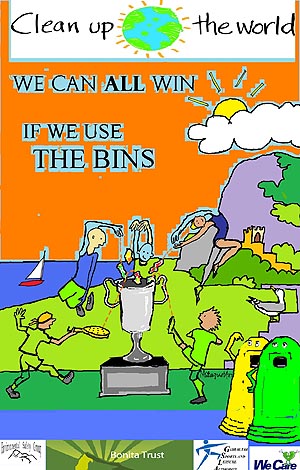 Prizes for the 10 best entries will include ice skating passes and a T-shirt bearing the poster design among others. The winners will also get the satisfaction of seeing their design printed up and posted in schools and sporting complexes for the next year.
Feedback from the teachers and sporting managers suggests that littering is fairly widespread within their establishments and that even if they don't have the problem, this exercise could help strengthen everyone's resolve to be cleaner citizens, while also bringing focus onto the new recycling facilities.
This campaign runs ahead of the annual September's Clean up the World weekend where hundreds of volunteers each year, since 2005, have traditionally cleared tons of rubbish off our green areas and coastal sites. By increasing awareness of litter and waste issues during our outdoor season we hope to reduce these problems and create a healthier and more sustainable environment. This year's dates are: 20th and 21st September.
Please call organiser J Howitt on 43156 or try 71020 and 74467 and leave your details.