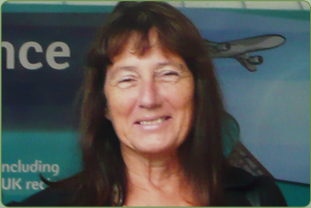 "After training as a teacher in Mary Ward College in Nottingham I taught in local schools from 1976. I attained a Masters in Educational Management in 2001. I was able to enjoy a career in education as well as nurturing three children who have now become wonderful young adults and friends.

I moved to the Education Support Services in 1989 and led the Advisory service team, being responsible for the professional development of teachers from 1996 till I retired three years ago.

I co-directed a programme on environmental education for all teachers in government schools which resulted in teaching and learning modules on local issues which integrate critical thinking skills into environmental activities for children. (Action Research for Sustainable Development ISBN no 0-9583009-0-9).

I joined the Environmental Safety Group from its inception when sister Janet and husband Tom were arrested for their peaceful protest against the presence of a damaged nuclear submarine in Gibraltar.

I strongly believe that people in Gibraltar could make vast improvements in the management of the local environment if everyone, in all walks of life, were to communicate effectively and work together."

ESG Comment: Pat's background in education and people management has proved invaluable in advising the ESG on the often sensitive aspects of our lobbying and campaigning efforts in such a small community, as well as in developing our educational environmental campaigns.