The ESG accompanied by legal adviser David Dumas QC of Hassans International Law firm met with MEP Neil Parish yesterday 28th May 2007.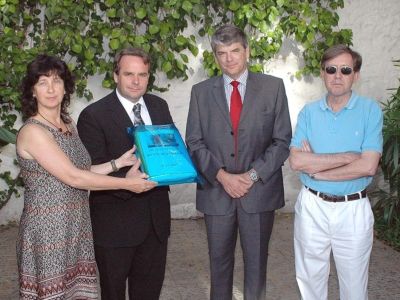 The group briefed the MEP and brought him up to date on the latest developments in the Bay including the all too numerous and worsening polluting incidents which have taken place mainly at the CEPSA Oil Refinery.
The ESG also presented the MEP with a copy of the 13,500 strong petition organised by "La Plataforma por El Estudio Epidemiologico" calling for health studies to be done on the Bay populations given the concerns which exist over links between pollution from the petrochemical industries and ill health. An original copy of this petition was handed to the Chief Minister and to la Junta's offices in Algeciras on the 14th May 2007. It is hoped that this well supported cross border petition will assist the MEP in pressing forth the complaint lodged with the European Commission by the ESG through the legal offices of Hassans law firm.
Discussions with the MEP include possibilities of direct legal action against the Commission as well as agreeing a strategy for the next 6 months to ensure that pressure is maintained on large industries like CEPSA for compliance of environmental regulations at a European level.