Continuing in the theme the ESG employed for 2003 Earth Day, the ESG considers the latest massive culling of 27 apes to be yet another knee jerk reaction in a series of what is fast becoming an untenable situation.
Our apes are over-habituated to humans, being surrounded by unlimited numbers of cars and people 7 days a week. Nowhere else in the world do you have a situation where tourists are charged and can roam freely among wild animals without the presence of guides enforcing strict codes of behaviour. Feeding of the apes by tourists should be an arrestable offence. It is not an insignificant issue, it leads to behaviour reinforcement in wild animals turning them into potentially aggressive ones and quite possibly to their termination.
The ESG considers this to be serious enough to warrant the urgent introduction of an all-encompassing management plan to conserve the Upper Rock and fauna which are valuable assets for residents and tourists alike. All users must abide by a plan which should clearly have the preservation and sustainability of the reserve as the overriding factor. Only then can you properly address all the issues and prevent situations from deteriorating warranting extreme measures such as emergency culling.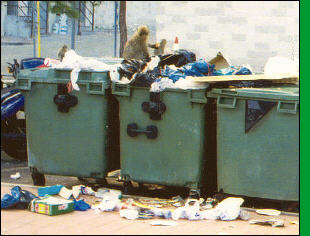 In the Caleta area, the issue of litter was surely another factor that attracted the apes to the area. In this case, as the photo shows, the bulging bins proved too hard to resist and helped lead to the demise of these poor creatures. The ESG sincerely hopes that litter is not allowed to build up in this manner again and anywhere else on the Rock as it is both a major health hazard and encourages apes and seagulls to rip everything up creating eyesores all over the place. Not the best picture we can offer of Gibraltar.
GONHS have recently announced a stepping up in their awareness campaign to dissuade contact with the apes and feeding by the general public. This campaign should be supported by all Gibraltarians and visitors alike whilst an appropiate management plan is produced with the utmost urgency.