Today in Toronto (Canada), Professor Benach is addressing an International Conference on Urban Health (the 4th of its kind), which aims to improve social justice for urban communities.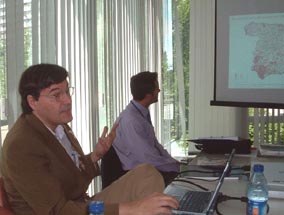 Professor Benach is an academic associated with the "Universitat Pompeu Fabra" in Barcelona, whose work focuses on public health issues such as health inequalities and health policies. Locally, we know Professor Benach as the lead author of the "Atlas of Mortality", which recently revealed striking clusters of high mortality in south-western Andalusia, with more people here dying earlier and unexpected deaths (from cancer, for example) than anywhere else in Spain. Indeed, this very issue – labelled a "public health crisis" by the Barcelona-based scientist – is the subject of Professor Benach's presentation at the conference of public health scientists and practitioners in Toronto.

Having established a working relationship with Professor Benach, the ESG was invited to make a presentation alongside the Professor and two other environmental NGO's from nearby Spain. Although it was not possible (for practical reasons) for the ESG to send a spokesperson to Toronto, the group's work will be represented at the conference. The ESG produced a PowerPoint presentation summarising its work over the last few years on environmental issues in our Bay that Professor Benach will be delivering to the international audience.

Generally, Professor Benach's presentation is expected to address the following items:

1) Social inequalities and environmental injustice in Spain;
2) The existence of a public health crisis in the south-west of Spain;
3) The need for a multidisciplinary and participatory research approach in south-western Andalusia;
4) The work of grassroots environmental movements here, including that of the ESG & Bay Bucket Brigade (see below); and.
5) General lessons to be learnt from the collaboration between community organizations, environmental lobbyists, university scientists and medical professionals in south-western Andalusia.

The ESG's presentation details the history of the group and an overview of the various campaigns and actions that the group has engaged in. Amongst these, the Bay Bucket Brigade campaign features prominently, as this work has generated great interest from those working towards a healthier environment. It is understood that Professor Benach will be using the BBB's work as a platform for discussion of the similarities and differences between governmental, scientific and community information, the importance of independent sources of information and the benefits of such community-driven programmes. The presentation includes extensive visual footage of the highly polluting Oil Refinery, petrochemical industries and other industrial activities in the Bay – it is believed that these impactive images should go some way towards communicating the gravity of the environmental health risks we face in the Bay.

The ESG will be soon be updated by the Professor on how the presentation was received. Furthermore, the group is hoping that the Professor will be visiting the Rock during the month of November to continue developing strategies and actions -to stop environmental degradation, which currently places public health at risk.

Further information is available on the ESG website www.esg-gib.net