Following on from the success of "An Inconvenient Truth" and in the wake of the recent IPCC report and increasing media coverage on the issue, the Environmental Safety Group is organising a discussion on climate change with a focus on potential solutions for Gibraltar.
This will take place on the 21st of February at Sacarello's Coffee House from 6.30 – 8.30 pm.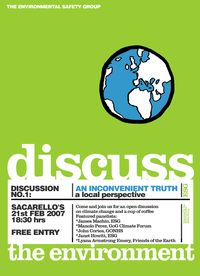 The discussion will be open to the public and the main aim is to provide a forum for ideas and suggestions on how Gibraltar could reduce its carbon dioxide emissions and move towards a more sustainable future.
The discussion will take the following format:
· Is Gibraltar ready to adapt to the changes that will result from climate change?
· What is Gibraltar currently doing to address the problem?
· What options are available to Gibraltar to help it better manage its environment and to mitigate the problem of climate change?
A panel will be present to set out expert opinion and the discussion format has been organised to ensure wider debate of the issues.
Please come early as seating is limited to avoid disappointment.