The E.S.G. received numerous complaints from members of the public on Wednesday concerning a powerful and nauseating "rotten eggs" stench.

A Bucket Brigade team sent to investigate discovered that a strong stench of hydrogen sulphide, which probably originated from fuel oil, was washing over the South District and the Town area.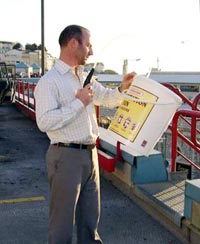 This fact, in conjunction with the westerly wind direction, strongly suggested that bunkering in the bay was the source of these emissions (several ships were taking bunkers at the time).

The team proceeded to take a sample and has sent this to an independent laboratory in the United States for analysis. The E.S.G. has promised to make the results public as soon as they arrive.

This is the latest in a series of such incidents, which proves that the government has failed, so far, in its commitment to identify and eliminate the source of these noxious gases in order to protect the public from their negative health effects.