ESG Report on: ATLAS DE MORTALIDAD AUTHOR IN THE BAY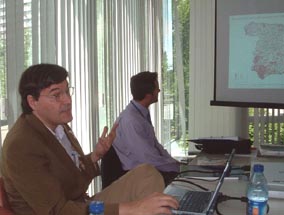 Professor Joan Benach, respected author of the Atlas de Mortalidad (www.esg-gib.net for pdf document), returned to the Bay yesterday as part of a follow-up trip in the "triangle of higher mortality" in Spain: that is Huelva, Sevilla and Cadiz.
He was invited to Algeciras by La Plataforma por el Estudio Epidemiológico. Professor Benach has previously published his concerns about the higher mortality clusters which appear in the south-western arm of Spain and which, in his view, requires competent authorities to embark upon public health studies that :-
* are thorough and of the highest standard;
* are multi-disciplinary in nature;
* carry full public disclosure of results as they are obtained;
* include an integrated health plan;
* are participatory and have full knowledge of the area
The results should display intent to move from mere words to action: That an ongoing evaluation of the study results should be made in order for necessary action to be taken and for the studies to have a practical and realistic purpose; especially as an overall epidemiological study can take many years to complete.
Presentation:-
In his presentation the Professor included examples of the work being done by Environmental NGO's such as the ESG/BBB and Verdemar claiming that citizens have every right to expect and demand a clean and healthy environment. Professor Benach discussed how it is accepted that in the field of health studies common causes of higher mortality can be genes – level of health care – lifestyle- and environmental factors.
In his view, genetic predisposition is not enough of an indicator given that triggers are still required to set off genetic responses and processes.
Although quality of health care is also critical at a certain stage, it would not by itself create the disease or health problem in the first place.
When he spoke of lifestyle, here is where the issue becomes quite complex because this involves many factors which can contribute towards a longer or shorter life expectancy. Social, educational and employment factors all play a part in dictating the kind of life you will lead. The Professor also spoke about how the lifestyle in populations of lower socio-economic wealth will contribute towards poorer health and how these populations are commonly located close to heavily polluting, industrial activity.
Ultimately, however, these factors are fundamentally affected by the environment and socio-economic wealth of the affected community. When he spoke about environmental factors, and while he was not confirming this as the main cause of higher mortality, he cited the growing scientific evidence which is emerging by respected scientific bodies of the presence of heavy metals and other pollutants in the land, sea and air in the Bay and also in Huelva, home to another Oil Refinery and petrochemical complex. These pollutants are known to cause disease in humans and the fact that these industries are situated close to residential areas must present a significant impact on the health of these communities.
Therefore, the Professor concludes that any epidemiological study worth its salt must take into account the nature of the environment it is being carried out in. This is precisely what the Plataforma has repeatedly stated is not currently being done under La Junta and why, the Gibraltar Government and Spanish Authorities should pursue their pledge to carry out a cross border, independent epidemiological study which will help bring about the urgent action needed to clean up the Bay industries with direct benefits for the health of the communities and the living environment.
Biographical note:
Joan Benach
Degree in Medicine (UAB, 1980), Master in Public Health (UB, 1991), Doctor in Public Health (Johns Hopkins, 1998) and specialist in Preventive Medicine and Public Health (2002). Educated in Contemporary History (UAB, 1981-1984), Methodology of the Social Sciences (UB, 1982-1984) and Health Policy (University of Berkeley, 1990). Researcher at the National School of Health (1993-1995) and vice president of the Committee that drafted the report "Social Inequalities in Health in Spain" (Ministry of Health, 1996).
His teaching experience has mainly taken place at the National School of Health (1993-1995), the Johns Hopkins University (Health Policy 1992-1993 and the Fall Institute 2004-) where he is an Associate Professor (2005-) and, above all, at Universitat Pompeu Fabra (1994-) where he is a Full Lecturer (2002-).
Author of over a hundred papers published in Spanish and foreign scientific journals including 30 international articles in indexed journals. Director of the Atlas of Mortality in Small Areas of Spain (2001) and Catalonia (2004), co-co-ordinator of the reports on Inequalities in Health in Spain (2003 and 2005), and author of the book "Learning to Look at Health" ("Aprender a mirar la salud" (2005)), he has collaborated in numerous national and international books and reports. He has taken part in several national and international research projects and directs several doctoral theses .