The ESG has today submitted a 13,500 strong petition organised by "La Plataforma por El Estudio Epidemiologico" to the Chief Ministers Secretary who receives this on behalf of La Comision Mixta. At the same time members of La Plataforma, Agaden and Verdemar will submit a copy to la Junta's Offices in Algeciras.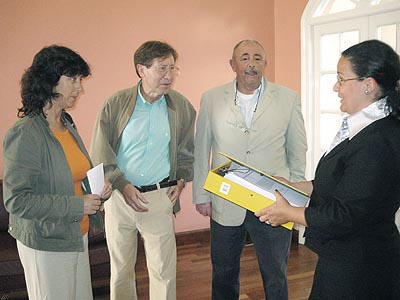 The petition reflects the serious concerns felt by residents across the Bay including Gibraltar of the short and long term health effects of the CEPSA Oil Refinery and associated petrochemical industries. These concerns have been validated with the publication of Profesor Benach's "Atlas de Mortalidad" which highlights a striking cluster of mortality in the province of Cadiz generally, in which the Bay specifically fares poorly.
It is sincerely hoped that together with media campaigns and close monitoring and vigilance on the part of environmental activists and citizens in general that this petition will lend pressure on politicians to prioritise the environment, our health and that of future generations.
La Plataforma is asking unequivocally for independent and rigorous health studies to be done at cross border level with the trust and co-operation of the public to establish the full impact from heavy industrial activities and for this to be done urgently.
The cross border group is hopeful to be able to meet face to face with La Comision Mixta and discuss in more detail all of its concerns.
The ESG wishes to thank all those who gave of their time to help collect signatures and wishes to advise that the online petition being run in support of this campaign (and included in the total) continues and can be found on: http://www.petitiononline.com/gibnews1/petition.html