The environmental protest in Puente Mayorga successfully conveyed a strong message to the media present that the pollution from the CEPSA Oil Refinery must be relegated to the past.
The cross border protest led by the Plataforma Por El Estudio Epidemiologico's banner, circled round and walked over the old Roman Bridge just in front of the towering chimneys, briefly stopping the traffic. Numerous banners waved in the wind and a slow walk led the protestors to an open area alongside the bridge where statements were made by three representatives from La Plataforma : that is Agaden, Verdemar and the ESG.
As if to underline the legitimacy for the protest the air reeked with noxious smells from the Oil Refinery the entire time and affected many present. Complaints of headaches, nausea and sheer disgust were made over the quality of the air at the site; this all the more worrying when very young children were playing close by.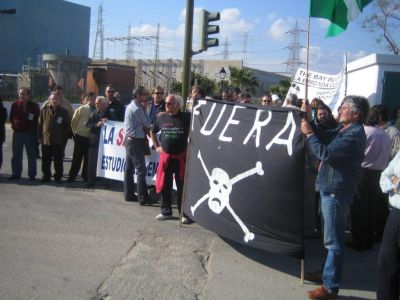 It is thought that a few hundred people turned out in support – it was enough to produce the right atmosphere in what was quite a confined area with narrow streets.
A reminder, perhaps, that in spite of the promises made by politicians that CEPSA will reduce its emissions, it is the people after all who will ultimately be judging any real progress in their neighbourhood and environment in general.