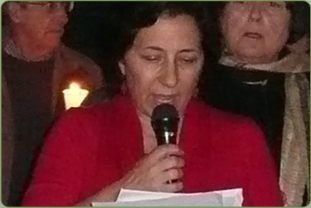 Conchita Triay DOB 1955
BA Hons French/ English & PGCE Leeds University:
Has had a strong interest in a range of social and political issues since she was a teenager. Active member of CND Gibraltar over a period of 10 yrs. Has campaigned and fundraised for OXFAM and Action Aid. Is at present a committee member of the latter charity in Gibraltar. Has a special interest in Mental Health issues and is active in this sphere. Has been involved with the Cheshire Home Project since her first visit to the Home in Tangier, in 1985. Became involved with the ESG in relation to the anti-Tireless campaign in 2004. Has since been a committee member of the group. Considers environmental issues to be of paramount importance and thinks it essential for everybody to do their bit at whatever level they can.
ESG Comment: Conchita's knowledge, language skills and experience of people and our community as a whole has helped the group develop educational and awareness campaigns more effectively. Her forthright attitude also singles her out as a courageous individual who inspires many of the young students she teaches.