Friday's meeting for the 1st CUTW planning preparations went well, with confirmation of over 20 teams already confirmed for this year's event.
Discussions centred on how we would organise ourselves for what will be another major logistical operation.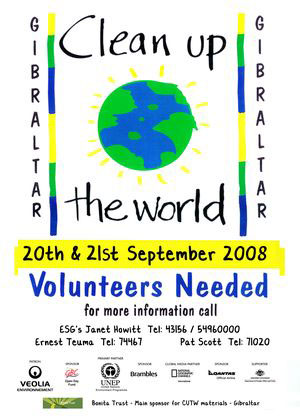 The issue of fly tipping and widespread littering in our green and coastal areas, as well as the urgent need for a dedicated waste park was on the agenda, as was the inadequate redress by those with responsibility for enforcement and policing. This was also debated at length by those present, with emphasis being given to the need for Government to employ litter wardens with powers to hand out on the spot fines..
A written statement sent to the ESG in response to our enquires to Govt -over the temporary blip in recycling as reported in the media – was read out to those present, with Govt giving a categorical assurance that it was committed 100% to the successful implementation of its recycling programme for glass and cans.
Equipment sourcing, transport and other issues were discussed, with acknowledgments also to the generous sponsorship once again from the Bonita and Open Day Trust. We are hopeful that the Gibraltar business community will once again step forward to assist as they have done in previous campaigns.
The next CUTW meeting is scheduled for the 5th September where it is expected that all team leaders will attend, many of whom were away during the month of August.
Preparations continue and all those interested in getting involved can please call: 43156 71020 or 74467 or email esg @ gibtelecom.net