Gibraltar will be supporting an important global event this weekend known as the 350 Campaign.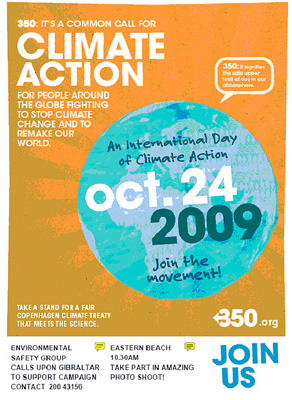 350 is a lot more than Gibraltar's international code- it also happens to be the name of an international campaign dedicated to creating an equitable global climate treaty that lowers carbon dioxide below 350 parts per million. It is the number that leading scientists say is the safe upper limit for carbon dioxide – measured in "parts per million" in our atmosphere. Although current levels are already at 390, if we put a high enough price on carbon so we don't use as much, while also ensuring poor countries a fair chance to develop, we will be able to reverse course, develop a clean energy economy and prevent serious, long term damage.
In six weeks time governments will be meeting in Copenhagen, Denmark for the United Nations Climate Change Conference in order to create a new climate treaty. The International Day of Climate Action taking place this Saturday October 24th is the best chance we'll have to influence the treaty before negotiating positions solidify.
Around the world around 150 countries and over 5,000 events and actions will demonstrate how important it is for world leaders to make the necessary dramatic international agreement to reduce carbon emissions and set us on a rapid path to 350.
There will be climate events from the bottom of the Great Barrier Reef to the summit of Mount Everest. At each event — at rallies and parties and deep-sea dives — people will take a big photo that somehow depicts the number 350. The crew at 350.org will be taking these thousands of photos, projecting them on the giant screens in New York's Times Square, and delivering them directly to hundreds of world leaders and politicians in the coming weeks. They will also be placed on various high profile websites.
Please come and support the ESG and other groups and associations this Saturday at Eastern Beach where a giant number 350 will be photographed with the volunteers and our iconic Rock in the background- timing is important and the photo shoot will take place at 11.00am- Volunteers are asked to arrive as from 10.30 so we can plan the best display together.
Remember our photo will form part of an international display of action and where else to best promote the value of 350 if not here in Gibraltar…